WW2 - German and Axis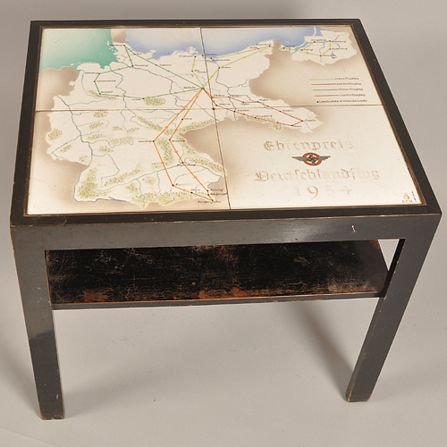 FRIEDRICH CHRISTIANSEN ROUND GERMANY FLIGHT TABLE TOP.
A magnificent KPM manufactured porcelain table top measuring 20 x 24 inches being a complete map of Germany in a one piece multi coloured porcelain showing the route map of the Round Germany Air Race in 1935, this being the honour prize. It is KPM marked to the lower right hand corner, completely undamaged, mounted in a contemporary table top on four legs, this item originally came from the hou... read more
THE GERMAN REICHWHER.
The excellent work in German language by the Austrian publishing house Verlag Militaria, published in 2005, the whole history of the German Reichwher between the wars. 464 pages of magnificent photographs both in colour and black and white of all the equipment, the construction, the organisation and administration of the German Reichwher. Complete with its original dust cover. read more
DR. HEINRICH DOEHLE WARTIME AWARDS BOOK.
The extremely scarce and desirable book published Berlin 1943, entitled ?DIE AUSZEICHNUNGEN DES GROSSDEUTSCHEN REICHS ORDEN EHRENZEICHEN ABZEICHEN?. This superb book has 152 pages of text and colour photographs of all of the Third Reich military and political awards that were instituted up to and including 1943. At the end of the book there is a 7 page supplement with awards that were institute... read more